Private Scag Nation Facebook Group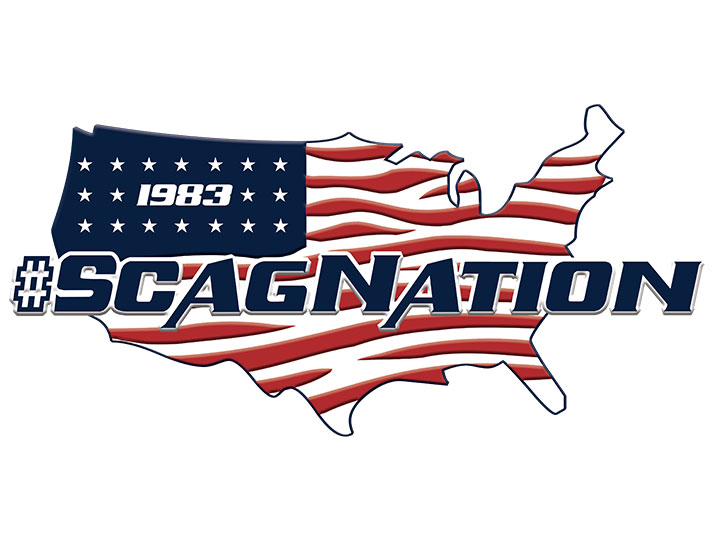 Check back for more shows
We are proud to be the primary sponsor of the Maynard Family Racing team and the Scag Power Equipment Top Fuel Dragster, driven by 8X NHRA World Champion, Tony Schumacher. Want to follow along or attend a race in your area? Check out the 2023 schedule below!

2023 NHRA Schedule

When (Date)
What (Event)
Where (Location)
March 9-12, 2023
AMALIE Motor Oil NHRA Gatornationals – Gainesville, FL

Gainesville Raceway
March 24-26, 2023
NHRA Arizona Nationals – Chandler, AZ
Wild Horse Pass Motorsports Park
March 30-April 2, 2023
Lucas Oil NHRA Winternationals – Pomona, CA
Auto Club Raceway at Pomona
April 14-16, 2023
NHRA Four-Wide Nationals – Las Vegas, NV
The Strip at Las Vegas Motor Speedway
April 28-30, 2023
NHRA Four-Wide Nationals – Concord, NC
zMAX Dragway
May 19-21, 2023
Route 66 NHRA Nationals – Elwood, IL
Route 66 Raceway
June 2-4, 2023
NHRA New England Nationals – Epping, NH
New England Dragway
June 9-11, 2023
NHRA Thunder Valley Nationals – Bristol, TN
Bristol Dragway
June 22-25, 2023
Summit Racing Equipment NHRA Nationals – Norwalk, OH
Summit Racing Equipment Motorsports Park
July 14-16, 2023
Dodge Power Brokers NHRA Mile-High Nationals – Morrison, CO
Bandimere Speedway
July 21-23, 2023
Flav-R-Pac NHRA Northwest Nationals – Kent, WA
Pacific Raceways
July 28-30, 2023
DENSO NHRA Sonoma Nationals – Sonoma, CA
Sonoma Raceway
August 11-13, 2023
Menards NHRA Nationals – Topeka, KS
Heartland Motorsports Park
August 17-20, 2023
Lucas Oil NHRA Nationals – Brainerd, MN
Brainerd International Raceway
August 30-September 4, 2023
Dodge Power Brokers NHRA U.S. Nationals – Indianapolis, IN
Lucas Oil Indianapolis Raceway Park
September 14-17, 2023
Pep Boys NHRA Nationals – Mohnton, PA
Maple Grove Raceway
September 22-24, 2023
NHRA Carolina Nationals – Concord, NC

zMAX Dragway



September 29-October 1, 2023
NHRA Midwest Nationals – Madison, IL
World Wide Technology Raceway
October 12-15, 2023
Texas NHRA FallNationals – Ennis, TX
Texas Motorplex
October 26-29, 2023
NHRA Nevada Nationals – Las Vegas, NV
The Strip at Las Vegas Motor Speedway
November 9-12, 2023
NHRA Finals – Pomona, CA
Auto Club Raceway at Pomona
*Please see NHRA.com for more information on each race and how to order tickets
Ryken Hartwick
Lafayette, Indiana
Cody Butler
Bowling Green, KY
Austin Krebs
Mechanicsburg, Pennsylvania
Will I Am Mowing
Springfield, MO
Troy Thompson
Lexington, Kentucky
Andy Hetler
Uniontown, OH
Nolan Lawson
Gordonsville, Virginia
Brandon Petty
Spartanburg, Sc
At Scag, we are fanatical about lawn striping! If you are as "stripe crazy" as we are, we want to see your work! Post the best lawn-striping patterns you have done with your Scag mower on our Facebook, Twitter or Instagram page using the hashtags #Scag and/or #ShowUsYourStripes. Not on social media? Share your stripes and let us know your name, where you're from and what mower you used, and we'll be happy to share! We will post the best ones on this page for everyone to enjoy. Want to be featured in Scag online and/or printed marketing and promotional materials? Complete a Scag Nation Customer Profile.
"The Cheetah is an outstanding piece of equipment and always gets the job done. You have a customer for life."
"Scag is the only mower that I have ever used since I started my business over 20 years ago. The Scag Turf Tiger is the best piece of lawn equipment made, period."
"As a Scag owner, I love the fact that this unit is made in America and no other mower, to me, has better quality. I want you to tell all the employees at your plant that I as a customer appreciate their hard work and detail to quality. I will always buy Scag in the future. I love my Tiger Cat. It's the very best-quality lawn equipment made."
"In the past it would take 7 to 7½ hrs to cut 4 acres. Now it takes only 3½ hrs. My wife loves this mower (Freedom Z). I can't keep her off of it. She took my other key and will not give it back."
"Our company owns 37 Scag mowers. We obviously like your product."
"Awesome mower. I wish I had bought one twenty years ago instead of going through other low-quality mowers."
"I spell quality S-C-A-G!! One great mower!"
"I am 53 years old and have been cutting grass since I was 11. This is the first time I have enjoyed the cutting as much as the income."
Scag Power Equipment is represented across the globe by a network of authorized dealers. Scag dealers are your best source for obtaining timely sales assistance, reliable technical service, as well as Genuine Scag Parts.